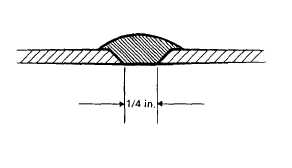 TM 5-4210-220-34
2-17.
FUEL TANK.
This task covers:
Repair
TOOLS
EQUIPMENT CONDITION
Shop Equipment, Automotive
Fuel Tank Removed From Truck
Maintenance and Repair,
(see TM 5-4210-220-12)
NSN 4910-00-754-0705
Fuel Priming Pump Removed From Tank
(see TM 5-4210-220-12)
WARNING
Diesel fuel is flammable.  Diesel tank must be steamed out before any repair is attempted.
NOTE
Fuel tank is fabricated from 0 188 in.  and 0.125 in.  5052 H32 aluminum.
REPAIR
(1)     Remove breather from fuel tank.  Blank the flange openings with a temporary cap.
(2)     Steam fuel tank for at least 8 hours at a pressure of at least 5 psi (35 kPa).
WARNING
Personal injury may be sustained from rupture of the tank if it is over-pressurized.  Do not apply
more than 12 psi (85 kPa) air pressure when testing.
(3)     Inspect fuel tank for leaks and determine exact location.  If the leak is small, pressurizing the tank with 1 - 2
psi (7 - 14 kPa) air may help to find the leak.  Brush a soap solution  on  outside  of  tank.    Bubbles  indicate
location of leak.
(4)     Only small leaks should be repaired.  Any split or puncture creating a hole or crack more than 2 in.  (5 cm)
long should not be repaired.  Replace the tank as detailed in TM 5-4210-220-12.
(5)     To weld any holes, see TM 9-237.
(6)     The following types of welds may be
attempted.
(a)     Small  hole  leaks  (less  than  1/4  in.    (6
mm)):   Clean   out   hole   using   file   or
countersinking  bit.    Roughen  up  area
around the hole.  Fill hole with welding
rod and extend weld out at least 1/8 in.
(3  mm)  to  surrounding  area.  Do  not
level weld.
2-154