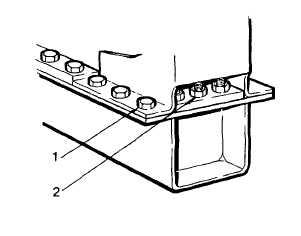 TM 5-4210-220-34
2-16.
RADIATOR CORE.
This task covers:
a.
Removal
b.
Installation
c.
Repair
TOOLS
Radiator Removed from Truck
Shop Equipment, Automotive
(see TM 5-4210-220-12)
Maintenance and Repair,
Shutter Removed from Radiator
NSN 4910-00-754-0705
(see TM 5-4210-220-12)
EQUIPMENT CONDITION
MATERIALS/PARTS
Main Engine Shutdown
1100-6317-00 Radiator Core
(see TM 5-4210-220-12)
284-6317-00 Radiator Core Gasket
APU Shutdown (see TM 5-4210-220-12)
Batteries Disconnected
PERSONNEL REQUIRED - 2
(see TM 5-4210-220-12)
WARNING
Engine coolant can cause severe burns.  Allow engine to cool before attempting to maintain the radiator.
REMOVAL
(1)     Remove all capscrews (1) and nuts (2) from
one reservoir.
(2)     Carefully pry strengthening bars off flanges.
(3)     Carefully pry reservoir from core.
(4)     Remove other reservoir similarly.
(5)     Lift sides away from core.
INSTALLATION
(1)     Clean  old  gasket  material  from  flanges  of
equipment    that    is    to    be    reused.        Use
scraper   or   wire   brush   to   ensure   all   cork
material is removed.
(2)     Install gasket on reservoir.
WARNING
Serious  injury  could  occur  If  heavy  equipment  is  moved/lifted  without  sufficient  personnel  to  do  the  job.
Use proper physical lifting procedures or use a suitable lifting device or dolly.  Wear safety shoes, gloves
and other suitable protective clothing.
2-150