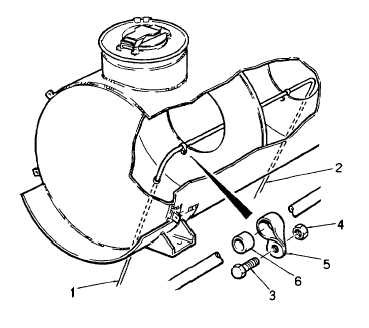 TM 5-4210-220-34
2-15.
WATER TANK ASSEMBLY - Continued
2-15.1    Water Tank - Continued
NOTE
Water tank, pump body, and hose body remain installed on truck.  Water tank empty of water.
Hose body heat shield removed (see TM 5-4210-220-12).
(1)     Crimp winterization hoses to prevent loss of engine coolant.
(2)     Inside the tank remove screws (3), nuts (4), clamp (5), and filler (6).
(3)     Unscrew heater coil fitting from tank couplings and remove heater coil.
(4)     Examine heater coil and determine extent of damage or failure.
(5)     Provided the coil material is sound, minor leaks or damage may be repaired by hard soldering pinhole leaks
or by cutting the coil on both sides of the failed area.
Reconnect the coil pieces using a 3/4 in.
i.d.
copper coupling, and hard solder (see TM 9-237).
(6)
If damage to the coil is extensive the complete coil as well as the coil fittings must be replaced.
(7)     Apply pipe sealant to thread of coil fitting and install coil in tank.
Be sure fittings are tightened firmly.
(8)     Attach coil to tank baffles using clamp fillers (6), clamps (5), screws (3) and nuts (4).   Tighten nut firmly.
(9)     Remove crimps from winterization hoses (1 and 2).
(10)  Inspect coil and coil connections for leaks by circulating engine coolant (see TM 5-4210-220-12).
(11)  Top up engine coolant in radiator as required.
2-144