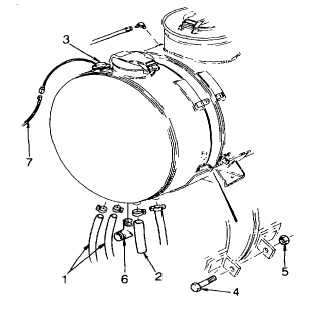 TM 5-4210-220-34
2-14.
FOAM TANK.
This task covers:
a.
Replacement
b.
Repair
TOOLS
Wheels Blocked
Shop Equipment, Automotive
All Air Tanks Drained
Maintenance And Repair,
Pump Body Removed (see para.  2-10.1 Pump
NSN 4910-00-754-0705
Body)
Hose Body Removed (see para.  2-11.1 Hose
EQUIPMENT CONDITION
Body)
Foam and Water Tanks Drained
Main Engine Shutdown
MATERIALS/PARTS
(see TM 5-4210-220-12)
22, Appendix B Pipe Sealant
APU Shutdown (see TM 5-4210-220-12)
310697 Foam Tank
Batteries Disconnected
310591 Locknut
(see TM 5-4210-220-12)
Pump  Body and Hose Body Heat Shields
PERSONNEL REQUIRED - 2
Removed (see TM 5-4210-220-12)
REPLACEMENT
WARNING
Serious  injury  could  occur  if  heavy  equipment  is  moved/lifted  without  sufficient  personnel  to  do  the  job.
Use proper physical lifting procedures or use a suitable lifting device or dolly.  Wear safety shoes, gloves
and other suitable protective clothing.
NOTE
To remove and install foam tank, overhead lifting equipment is required.  Equipment used for removal of
hose and pump bodies is suitable.  See para.  2-10.1.
(1)     Crimp winterization heater hoses (1) to avoid loss of engine coolant and remove hoses from foam tank.
(2)     Remove vent hose (2).
(3)     Remove level sensor (3) and extension
cable (7).
(4)     Remove foam tank outlet elbow (6).
(5)     Position   lifting   equipment   over   foam   tank
and rig up a lifting sling to tank and' hoist.
(6)     Remove   capscrews   and   nuts   (4)   and   (5)
attaching foam tank to water tank.
(7)     Lift  foam  tank  off  the  truck,  and  place  and
support it on the floor.  Remove lifting gear.
2-136