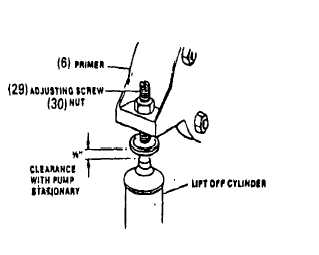 TM 5-4210-220-34
2-13.
FIRE PUMP - Continued
2-13.11 Disengaging Unit - Continued
(24)  Attach the union nut (10) to base of disengaging unit and tighten firmly.
(25)  Swing the water ring primer (6) back to normal operating position.  Allow the fiber driving wheel to rest in pump
driving pulley groove.
(26)  Re-attach the priming return spring (5).
(27)  Install hose (2) and secure using clamps (1).  Tighten clamps firmly.
(28)  Check disengaging unit to water ring primer clearance as shown.  To adjust, loosen jam nut (30) and adjust
screw (29) until 1/8 in.  (3.18 mm) clearance is achieved.  Tighten jam nut firmly once adjustment is made.
(29)  Test fire pump as detailed in par3.  2-13.14.
2-118 ( 2-119 Blank)