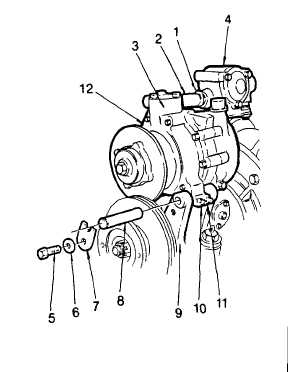 TM 5-4210-220-34
2-13.
FIRE PUMP - Continued
2-13.7 Water Ring Primer.
This task covers Repair
TOOLS
MATERIALS/PARTS
Shop Equipment, Automotive
3, Appendix B Antiseize Compound
Maintenance and Repair,
21, Appendix B Petroleum Jelly
NSN 4910-00-754-0705
WRP 7953 Gasket
WRP 7954 Gasket
EQUIPMENT CONDITION
WRP 7985 Seal
Fire Pump Removed from Truck
(see TM 5-4210-220-12)
WARNING
To prevent personal injury or premature bearing failure when removing or installing bearing races, always
exert force on the tight ring of the bearing.
Pump is made of aluminum alloy.    Sealing  surfaces  will  be  damaged  if  pry  bars  or  wedges  are  used  to
disassemble components.  When reassembling, do not force components into position or use fasteners to
bring parts together.
REPAIR
NOTE
Water ring primer can be removed from
fire     pump     with     the     fire     pump     still
mounted in the truck.
If fire pump is not removed from truck, the main  engine
and APU must be shutdown, the batteries disconnected,
heat   shields   removed,   and   the   pump   access   panels
removed    as    detailed    in    TM    5-4210-220-12.        The
procedure listed below describes water ring primer repair
with the pump removed.
(1)
To   remove   the   water   ring   primer,   loosen
gear  clamps  (1)  and  remove  priming  hose
(2) from primer.
(2)
Disconnect     and     remove     priming     return
spring from back of primer.
(3)
Remove capscrew (5), lockwashers (6) and
locking plate (7).
(4)
Loosen    the    two    locknuts    (10)    and    two
setscrews (11).
(5)
While    supporting    the    water    ring    primer
assembly  (12),    tap  the  fulcrum  pin  (8)  out
of  bearing  housing  (9).    Lift  the  water  ring
primer assembly from bearing housing and
place
on
workbench.
2-104