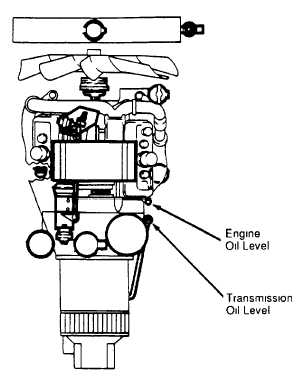 TM 5-4210-220-12
Table 2-1.  Operator Preventive Maintenance checks and Services (PMCS) - Continued
A - After Mission
D - Daily Checks
W - Weekly
Interval
Item
ITEM TO BE INSPECTED/Procedure
Equipment is not
No.
A
D
W
Ready/Available If
17A
·
ENGINE OIL - MAIN ENGINE.  Check the engine oil level daily
after the engine has stopped.  Wait 20 minutes before checking
level on the dipstick.
See LO 5-4210-220-12 for correct lubricant.
17b
·
TRANSMISSION  Check the transmission fluid level each day.
Allow transmission to reach operating temperature of 160 to
200 °F.  With the parking brake applied, shift the engine through
all drve ranges prior to the check.  Then shift to neutral.  If the oil
registers in the HOT RUN band marked on the dipstick, the
transmission may be operated safely.  If it registers on or below
the bottom line of the HOT RUN band, do not operate truck.
See LO 5-4210-220-12 for correct lubricant.
To achieve temperature rise to the normal operating range on
the MACI Truck, the vehicle should be run at high idle for
approximately 10 minutes (this assumes a normal ambient
temperature).  The transmission temperature gauge should
read between 160°F and 200°F.
Change 5     2-28