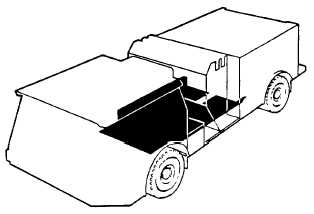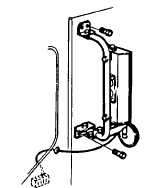 TM 5-4210-220-12
Table 2-1.  Operator Preventive Maintenance checks and Services (PMCS) - Continued
A - After Mission
D - Daily Checks
W - Weekly
Interval
Item
ITEM TO BE INSPECTED/Procedure
Equipment is not
No.
A
D
W
Ready/Available If
3
HEAT SHIELDS
·
·
Check that all heat shields are in place and are not
- Heat shields bent to
severely bent, scratched, or dented.  Clean as required.
ground level.
Be sure all fasteners are in place and are tight.
Refer to Organizational Maintenance for repair.
CAB DOORS
·
·
Ensure both cab doors latch.  Check inner and outer
handles operate Check window regulator moves
window up and down smoothly.
Be sure door seal is in place.
5
CAB MIRRORS
·
·
Check mirrors are not cracked and mounting is secure.
- Cab mirrors broken or
missing.
Check marker lights illuminate when marker light
switch in cab is set to ON.
2-23