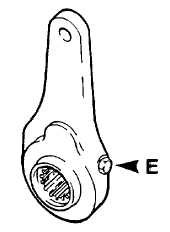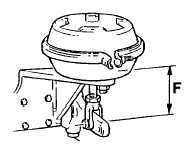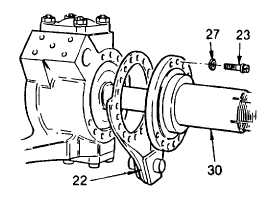 TM 5-4210-220-12
4-32.  FRONT AXLE-Continued
4-32.5  Brake Assembly-Continued
(19)
Depress  slack  adjuster  locking  sleeve  and  turn  adjuster
nut  (E)  with  a  wrench  at  least  one  turn  clockwise  and
counterclockwise.    If  binding  is  observed,  replace  slack
adjuster.
(20)
If  brake  chamber  (24)  is  replaced,  adjust  clevis  position
on push rod so that distance (F) from chamber to center
of clevis pin holes equals 2 5/8 - 1/16 in. (66.7 - 1.6 mm).
CAUTION
Do not reuse a brake drum if the diameter of the
bore  exceeds  the  manufacturers  recommended
maximum  or  the  total  indicated  runout  exceeds
0.020 in. (0.51 mm).
(21)
Inspect   brake   drum   for   cracks,   heat-checks,   glazing,
grooving,   runout   and   out-of-round      If   brake   drum   is
cracked it must be replaced.  If drum is glazed, grooved,
out-of-round, etc., it may be turned in a lathe and reused
provided the maximum diameter of the bore is less than
the figure stamped inside the drum.
INSTALLATION
(1)
If  disassembled,  assemble  air  chamber  (24)  and  bracket
(17)  using  washers  and  nuts  (20  and  21).    Be  sure  air
hose port in brake chamber faces away from ball socket.
Tighten nuts to 170 ft lb (230 Nm).
(2)
If  replaced,  install  new  brake  spider  (22)  and  wheel  spindle  (30)  using  hardened  washer  (27)  and  bolts
(23).  Apply threadlock liquid (Item 29, Appendix E) to bolt threads.  Install and tighten bolts to 200 ft lb
(270 Nm).
4-608