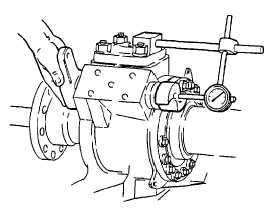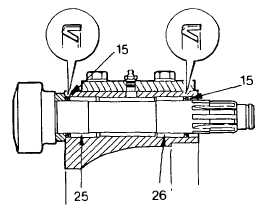 TM 5-4210-220-12
4-32.  FRONT AXLE-Continued
(9)
Push
camshaft
outward
and
note
maximum
dial
indication.    The  end  play  measured  should  be  0.005  -
0.045 in. (0.13 - 1.14 mm).
(10)
If
end
play
is
outside
these
limits
adjust
by
removing/installing    shim    washers    (12)    between    slack
adjuster and lock ring.
NOTE
Shim  washers  are  available  in  two  thicknesses,  0.030  in.
(0.76 mm) and 0.060 in. (1.52 mm).
(11)
Check  that  inside  surfaces  of  bushings  (25  and  26)  are
smooth.      If   rough,   replace   bushings   and   oils   seals.
Bushings can be removed with a suitable puller.
(12)
Mount     a     suitable     dial     indicator     with     the     plunger
referencing   the   cam   face   at   90   deg.   to   cam   bearing
journal.
(13)
Set indicator dial to zero and move cam head radially up
and down.  Note maximum dial reading.
(14)
Mount dial indicator at slack adjuster end of camshaft and
repeat step 13.
(15)
If measured play exceeds 0.02 in. (0.51 mm) at either end of camshaft, replace bushings (25 and 26).
(16)
Recheck radial play, as above, when new bushings are installed in ball socket bore.  If play still exceeds
0.020 in. (0.51 mm), replace camshaft
(17)
Check  camshaft  oil  seals  (15)  for  wear  and  damage.    If  oil  seal  lips  are  distorted  or  damaged,  or  new
bushings (25 and 26) have been installed in ball socket, replace oil seals.  Be sure seal springs are facing
in the same direction, away from the brake spider.
(18)
Inspect slack adjuster (14) for damage to body, splines, and clevis pin bushings.  If any serious defects
are noticed, replace slack adjuster.
4-607