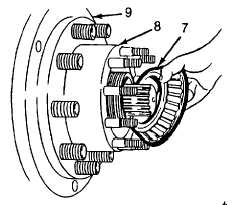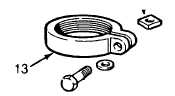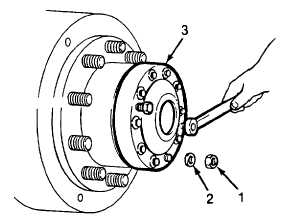 TM 5-4210-220-12
4-32.  FRONT AXLE - Continued
4-32.3  Hub Assembly - Continued
(14)    Install  assembled  hub  (8)  and  drum  (9)  on
spindle.  Install outer bearing cone (7).
(15)      Install   wheel   bearing   adjusting   nut   (6).
Tighten  nut  to  seat  the  bearings.    Rotate
drum   while   tightening   nut.      After   nut   is
seated firmly against bearing cone, back off
until the slot in the adjusting nut aligns with
slot (or groove) in axle spindle.
NOTE
Bearing  adjustment  is  important.
The nut should be tight enough to
eliminate hub end play and create
a  slight  drag.    This  drag  should
produce  at  least  a  5  lb  (22  Nm)
pull  at  wheel  mounting  studs.    If
drag  is  incorrect,  reset  adjusting
nut.
(16)   After  bearing  adjustment  is    correct,  install
nut   lock   (13)   in   the   adjusting   nut   slot.
Install capscrew and lockwasher in the nut
to hold lock and adjusting nut in position.
(17)    Pack  groove  in  hub  cap  with  grease  (Item
16, Appendix E) (1/2 in. thick layer).
(18)  Using a soft-nosed hammer, install hub cap
(3).    Apply  antiseize  compound  (Item  23,
Appendix  E)  to  thread  of  hub  studs  and
secure
hub
cap
with
nuts
(1)
and
lockwashers  (2).    Tighten  nuts  to  220  ft  lb
(300 Nm).
REPAIR
NOTE
Disassemble  and  replace  worn  or
broken
parts
as
detailed
in
REPLACEMENT preceding.
4-598/(4-599 Blank)