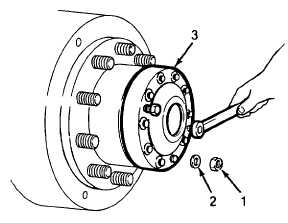 TM 5-4210-220-12
4-32.  FRONT AXLE - Continued
4-32.3  Hub Assembly.
This task covers
a.
Replacement
b.
Repair
TOOLS
Shop Equipment, Automotive
Maintenance and Repair,
NSN 4910-00-754-0705
EQUIPMENT CONDITION
Main Engine Shutdown (see para. 2-10)
APU Engine Shutdown (see para. 2-12)
Batteries Disconnected (see para. 4-24.12)
Rear Wheels Blocked
Applicable Front Wheel Removed (see para. 4-23.1)
Axle Drained of Oil (see LO 5-4210-220-12)
Air Tanks Drained
MATERIALS/PARTS
3, Appendix E Antiseize Compound
16, Appendix E Grease
302411 Hub Oil Seal
302410 Oil Seal Spacer
302328 Bearing Cone
302329 Bearing Cup
302407 Brake Drum
302417 Stud RH
302408 Stud LH
302406 Wheel Hub
302414 Wheel Nut RH
302334 Wheel Nut LH
302330 Wheel Bearing Nut
302332 Capscrew
90859 Lockwasher
3023321 Bearing Nut Lock
302335 Hub Cap
302434 Capscrew
30422 Lockwasher
REPLACEMENT
WARNING
Accidents    causing    serious    or    fatal
injuries  may  occur  unless  the  truck  is
supported    by    maintenance    trestles.
Never    rely    on    hydraulic    jacks    or
mechanical lifting devices for support.
NOTE
Hub repair is limited to replacement of
components.      When   removing   hub,
inspect   components,   and   replace   as
required.  This procedure is applicable
to left or right hub assembly.  To carry
out bearing adjustment only, carry out
steps 1 thru 3 and 15 thru 18.
(1)    Back  off  slack  adjuster  brake  adjustment,
see  para.  4-32.5  to  provide  sufficient  lining
clearance so that brake drums can be easily
removed.
(2)  Remove nuts (1), lockwashers (2), and hub
cap (3).
NOTE
Puller screw holes are provided if
difficulty
is
experienced
in
removing hub cap.
4-596