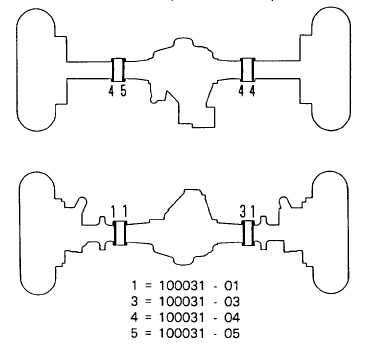 TM 5-4210-220-12
4-31.  FRONT AND REAR SUSPENSION - Continued
4-31.2  Springs - Continued
(16)  Install U-bolts (13, 14) over axle and spring, and hold in position with spring top plate (9).  Check marked
edge  is  forward  and  marked  face  is  top.    Three  different  U-bolts  are  used.    Be  sure  correct  U-bolts  are
fitted.  Ensure spring center rivet is  aligned with center hole of spring top plate and center hole of axle
spring weldment.
(17)  Install washer (11) on each U-bolt thread.  Apply five drops of threadlock liquid (item 29, Appendix E) to
each nut (10) and tighten each nut on each U-bolt in turn to gradually pull up the U-bolt.  Tighten each nut
to 300 ft lb (410 Nm).
(18)  Install shock absorber as detailed in para. 4-31.1.  Replace wheel on axle as detailed in para.4-29.1.
4-590/(4-591 Blank)