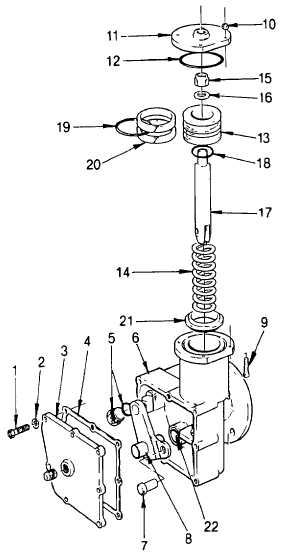 TM 5-4210-220-12
4-30.  REAR AXLE - Continued
b.
Differential Lock Air Shift Unit Repair
NOTE
Air shift unit removed from truck
NOTE
Replacement of gasket (4) or O-ring
(5)  may  be  done  without  removing
air shift unit from truck.  Whenever
the   air   shift   unit   is   disassembled
for repair, all O-rings and piston felt
oilers should be replaced.
(1)
Remove   capscrews   (1),   lockwashers   (2),
cover   (3),   and   gasket   (4)   from   shift   unit
housing (6).  Drain housing.
(2)
Remove  locknuts  (10),  capscrews  (9),  top
cover   (11),   and      O-ring      (12).      Discard
locknuts and O-ring.
WARNING
During the following procedure the
piston    (13)    will    pop    out    of    the
housing by action of the spring (14)
when   nut   (15)   is   removed.      Take
precautions    to    prevent    injury    to
your hands and face.
(3)    Remove locknut (15), flat washer (16), and
piston  (13)  from  push  rod  (17).    Remove
and  discard  O-rings  (18  and  19),  and  felt
oilers (20).
(4)
Remove     compression     spring     (14)     and
piston stop (21).
(5)
Remove clevis pin (7) and push rod (17)
(6)
Remove actuating lever and pivot pin assembly (8). Do not disassemble actuating lever.
(7)  Inspect housing (6) for damage and defects.  Replace complete air shift unit if excessive wear or
damage, including deep scoring of piston bore, is  noticed.
(8)
Inspect actuating lever and pin (8) for wear and deterioration.  Replace both parts if  either are defective.
NOTE
If  replacement  of  actuating  lever  and  pin  (8)  as  well  as  bushings  (22)  is  required,  replace
complete air shift unit.
4-579