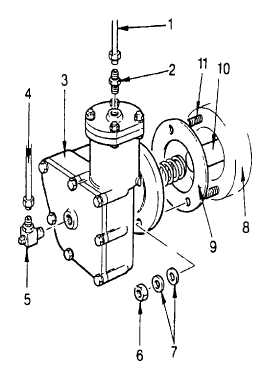 TM 5-4210-220-12
4-30.  REAR AXLE - Continued
4-30.5 Air Shift Units - Continued
b.
Differential    Lock    Air    Shift    Unit    Replacement
Continued
(7)
Inspect fittings (2 and 5).  Replace if damaged or
faulty.
(8)
Remove  vent  plug  (12)  and  replace  with  1/4  in.
setscrew.      Coat      threads      of      setscrew      with
threadlock  liquid  (item  29,  Appendix  E)  prior  to
installation.  Screw flush with housing.
(9)
Lubricate shift fork (10) and studs (11) with
Dexron  (item  22,  Appendix  E).    Push  shift
unit onto housing (8) making sure shift fork
(10)    and    actuating    lever    in    shift    unit
engage.
(10)
Secure air shift unit using nuts (6) and washers (7).
Tighten nuts to 60 ft lb (80 Nm).
(11)
Fill    shift    unit    housing    with    Dexron    (item    22,
Appendix E) as detailed in lube order LO 5-4210-
220-12.
(12)
Apply pipe sealant (Item 22, Appendix E) to pipe
thread of fittings (2 and 5) Install  fittings  to  shift
unit and install control air and vent lines (1 and 4).
REPAIR
a.
4-Wheel Drive Air Shift Unit Repair
NOTE
All  components  in  the  4-Wheel  drive  air  shift  unit  are  individually  replaceable.    Refer  to
REPLACEMENT preceding for details of removal and installation.  Whenever the shift unit is
repaired, all O-rings and felt oilers on piston should be replaced.
4-578