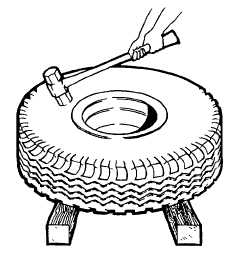 TM 5-4210-220-12
4-29.  WHEELS AND TIRES
4-29.2  Tires
This task covers
a.    Removal
b.    Inspection
c.    Installation
TOOLS
MATERIALS/PARTS
Shop Equipment, Automotive
30, Appendix E Tire Bead Lubricant
Maintenance and Repair,
215388 Tire
NSN 4910-00-754-0705
PERSONNEL REQUIRED - 2
EQUIPMENT CONDITION
Wheel Removed from Truck (see para. 4-29.1)
REMOVAL
(1)
Remove  valve  core  slowly  and  allow  all
air to escape.
(2)
Place wheel and tire assembly on wooden
blocks.
(3)
Beat side of tire with hammer to break tire
to rim seal.
(4)
Insert     curved     end     of     two     tire     irons
between rim and tire bead about 5 in. (12
cm) apart.
(5)
Force both tools down and out to lift bead
over wheel rim.
(6)
Leave one tool in place and put second 5
in.    (12    cm)    away    from    first    position.
Repeat  steps  5  and  6  until  side  of  tire  is
removed from rim.
(7)
Turn  tire  over,  and  repeat  steps  3  thru  6
driving  other  edge  of  tire  over  same  side
of rim as the first.
(8)  Remove valve stem from rim.
INSPECTION
(1)
Use wire brush to remove all dirt and corrosion from rim.
(2)
Inspect rim for cracks, deep pitting or dents.
(3)
Replace rim if any significant damage is found (e.g. cracked weld, bent rim ).
(4)
Repaint rim as required.
4-556