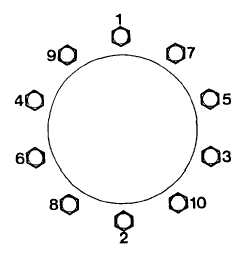 TM 5-4210-220-12
4-29 WHEELS AND TIRES - Continued
INSTALLATION
(1)
Install wheel over axle studs.  Adjust height of wheel lift truck, so as not to damage the stud threads.
(2)
Draw wheel onto axle by snugging bolts in sequence.
(3)
When all nuts are seated tighten to 450 ft lb (730 Nm) in same sequence.
(4)  Raise truck on axle jack and remove maintenance trestles.  Lower jack until truck is supported on its tires.
Remove jack and chocks.
4-555