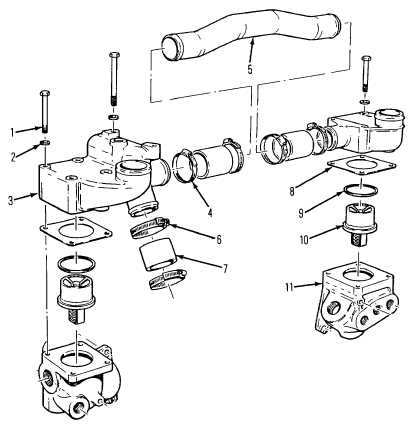 TM 5-4210-220-12
4-28.  ENGINE - Continued
4.28.4  Thermostat
This task covers
a.
Replacement
TOOLS
Tool Kit, General Mechanic Automotive,
MATERIALS/PARTS
NSN 5180-00-177-7033
5117786 Gasket
J8550 Thermostat Seal Installer
5102651 Thermostat
J7079-2 Drive Handle
5132155 Seal
5100860 Gasket
EQUIPMENT CONDITION
Main Engine Shutdown (see para. 2-10)
APU Shutdown (see para. 2-12)
Batteries Disconnected (see para. 4-24)
Both Engine Covers Removed (see para. 4-12.11)
WARNING
Engine coolant can cause severe burns or scalds.  Allow engine to cool before attempting to
maintain the thermostats.
4-552