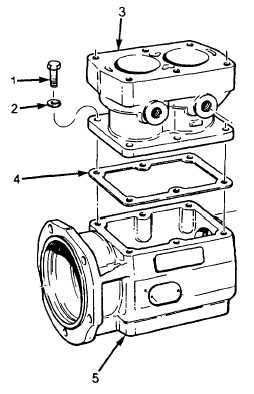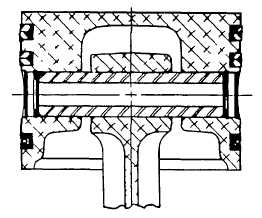 TM 5-4210-220-12
4-28.  ENGINE - Continued
(4)
Pull
bearing
cap
into
position
be
alternately   tightening   the   four   attaching
bolts.  Torque to 120 in. lb (14 Nm).
n.
Cylinder Block Installation.
(1)
Place  a  new  cylinder  block  to  crankcase
gasket  (4)  on  the  crankcase  (5).    Place
the cylinder block (3) on the crankcase in
the same orientation as it was removed.
(2)
Assemble
the
six
bolts
(1)
and
lockwashers  (2)  torquing  the  two  center
bolts to 8 ft lb (11 Nm), then the four end
bolts.  Increase the bolt torque to 30 ft lb
(41 Nm), torquing the center two bolts and
then the four end bolts.
p.
Piston and Connecting Rod Assembly
(1)
Position   connecting   rod   in   piston   and
press piston pin into place.  This may be a
slip fit or light press fit.
(2)
Install snap rings into piston at the ends of
the piston pin.
NOTE
Compression
rings
must
be
installed
with
surface
marked
"TOP"   facing   top   of   the   piston.
Some     compression     rings     may
have dots indicating the top of the
ring.
(3)
Install compression and oil rails and expander rings on pistons.  Seven rings are used in each piston, two
compression rings in each of the top two grooves, and two oil rails and an expander ring at the bottom.
(4)
Stagger ring gaps by 120 deg.
(5)
Press  the  connecting  rod  bearing  inserts  into  the  connecting  rod  and  bearing  cap.    Make  sure  the
locating tangs on the inserts engage the locating notches in the rod and cap.  Aline arrows on the cap
and rod as shown.  Make sure each rod cap is installed on the rod from which it was removed.
(6)
Coat rod bearings with engine oil (item 17, Appendix E).
4-547