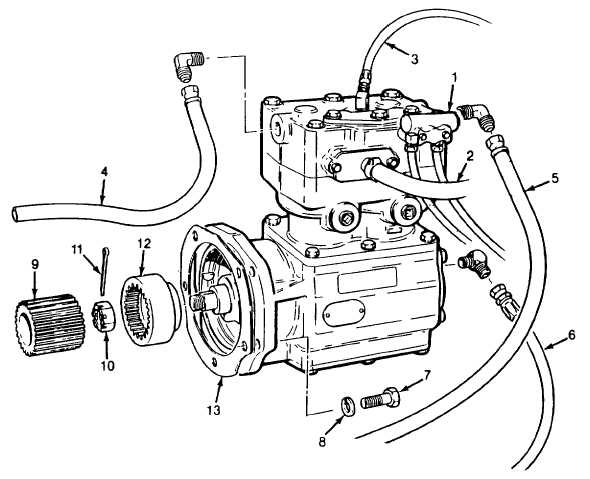 TM 5-4210-220-12
4-28 ENGINE - Continued
4-28.3  Air Compressor - Continued
(3)    Using  sketch  made  during  removal  install  all  pipe  fittings  in  compressor.    Coat  all  threads  with  pipe
sealant, (item 23 Appendix E) prior to installation.
(4)  Coat the air compressor drive coupling (9) with grease (item 16, Appendix E) and install into compressor
hub (12).  The grease will help retain drive coupling during installation.
(5)  Lift the air compressor into the engine compartment.
(6)   Install gasket (13) onto compressor mounting flange.
(7)    Install  air  compressor  onto  engine  and  secure  using  lockwashers  (8)  and  capscrews  (7).    Tighten
capscrews to 115 ft lb (155 Nm).
(8)  Reposition the fire pump governor and secure to main engine using capscrews.  Tighten capscrews to
115 ft lb (155 Nm).
(9)  Reattach water line to fire pump governor water pressure diaphragm and tighten securely.
4-536