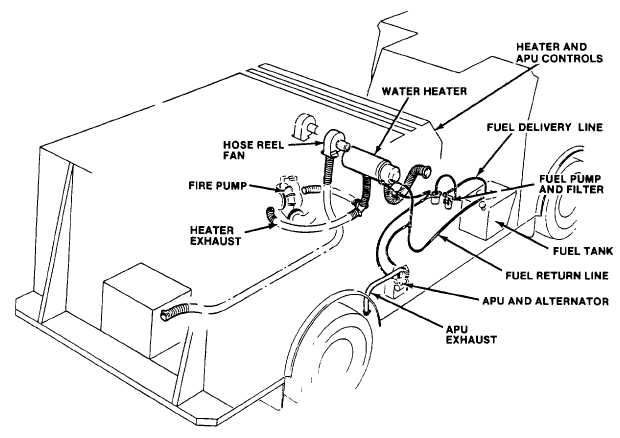 TM 5-4210-220-12
1-20.  WINTERIZATION SYSTEM.  - Continued
b

.  The winterization system is dependent on the APU being in operation since circulation of the engine coolant is
necessary  to  maintain  the  heater  in  operation.    If  circulation  is  stopped  (the  APU  stopped)  while  the  heater  is  ON,
continued heating of the coolant contained in the heater unit, will cause the heater to shutdown.  A thermal breaker in the
heater must be reset before the heater can be restarted.  The APU should always be started before the heater is switched
ON and stopped after the heater is switched OFF.
c.

 

 

The  APU  also  drives  an  auxiliary  alternator  which  is  connected  to  the  truck  batteries.    The  output  from  this
alternator is sufficient to maintain the batteries fully charged while the winterization system is operating.
d.  The APU and winterization heater are controlled by separate start and stop controls, however, the fuel supply to
both  units  is  delivered  by  a  common  fuel  pump,  (see  fig.  1-43).    This  fuel  pump  is  energized  only  when  the  APU  key
switch is set to Prime or Run.  Excess fuel supplied to the heater or APU is returned to the fuel tank.
Figure 1-43.  Winterization Heater and APU Fuel and Exhaust System.
1-50