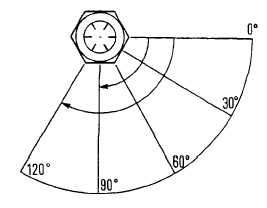 TM 5-4210-220-12
4-27.  TRANSMISSION - Continued
4-27.2  Transmission and Flexplate
(21)  Tighten retaining bolts (1) to 50 ft lb (68
Nm).    Turn  the  bolts  an  additional  90  -
120   deg.   to   obtain   required   clamping
force.
(22)    Tighten  flexplate  assembly  bolts  (8)  to
115 ft lb (156 Nm).
(23)  Remove bolts installed to align flexplates.
(24)  Position transmission on transmission lift
stand  and  push  stand  and  transmission
under truck.
(25)          Apply     gasket     eliminator     (item     14,
Appendix
E)
to
transmission/engine
flange.    Raise  and  align  transmission  to
engine.
NOTE
Installing  two  alignment  dowels  in  engine  flywheel  housing  will  help  during  installation  of
transmission to engine.  Dowels should be 7/16 in. - 20 X 6 in. long.
CAUTION
Do not pull transmission and engine together with flywheel housing bolts.  Damage to flywheel
pilot and crankshaft could result.  Transmission and engine must be pushed completely together
before tightening bolts.
(26)  With transmission flush and square with engine flywheel housing, install 24 bolts attaching transmission
to engine.
(27)  Tighten bolts to 65 ft lb (88 Nm).
(28)    Install  12  bolts  through  starter  hole  opening,  to  attach  flexplate  to  flywheel.    Use  engine  barring  tool
J22582 to rotate engine and transmission to install all bolts.  Tighten to 115 ft lb (156 Nm).  When all
bolts have been tightened remove barring tool.
(29)  Check isolators are in place and undamaged on frame brackets.  Install transmission support brackets
to frame.  Install mounting brackets to transmission.  Align transmission and frame mounting brackets
using  mounting  bolts  as  guides  and  by  raising/lowering  the  engine  support  bracket  (4,  Appendix  G)
adjusting bolts.  Install snubbing washers and new locknuts and tighten to 170 ft lb (231 Nm).
(30)  Remove engine support brackets (4, Appendix G).
(31)  Install transmission dipstick to transmission pan.
(32)  Install transmission dipstick upper support and bracket to transmission.
4-526