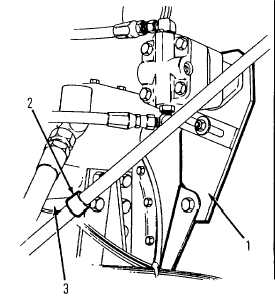 TM 5-4210-220-12
4-27.  TRANSMISSION - Continued
4-27.2 Transmission and Flexplate.
This task covers    Replacement
TOOLS
Wires Disconnected (see para. 4-17.10)
Shop Equipment, Automotive
PTO Drive Gearbox and Drive Shaft Removed
Maintenance and Repair,
(see para. 4-17.1)
NSN 4910-00-754-0705
Starter Motor Removed (see para. 4-24.2)
J22582 Engine Barring Tool
Transmission Cooler and Filtration Hoses Removed
4, Appendix G Engine Support Plate
(see para. 4-27.1)
Engine Air Compressor Removed (see para. 4-28.3)
EQUIPMENT CONDITION
All Truck Auxiliary Equipment Removed
MATERIALS/PARTS
Water Tank Drained
4, Appendix E Antiseize Compound
Main Engine Shutdown (see para. 2-10)
14, Appendix E Gasket Eliminator
APU Shutdown (see para. 2-12)
310591 Locknut
Batteries Disconnected (see para. 4-24)
310592 Locknut
All Heat Shields Removed (see para. 4-11)
6885601 Transmission
Transmission Shift Disconnected (see para. 4-12.6)
6882610 Flexplate Assembly
All Drive lines Removed (see para. 4-26.3)
Speedometer and Other Sender
PERSONNEL REQUIRED - 2
NOTE
To allow transmission to be rolled out from under truck, clearance between pump body and
floor must be 32 in. (810 mm) plus the collapsed height of the transmission lifting stand being
used.      Calculate   height   necessary   to   raise   truck   to   enable   transmission   removal   and
installation.  Approximate weight of vehicle could be in excess of 22,000 lb (10,000 kg).
If appropriate truck hoist is available, use as required.  If truck hoist is not available, truck can
be  driven  up  on  ramps  of  necessary  height  or  truck  may  be  jacked  up  front  and  rear  and
safety stands of adequate height and strength placed under front and rear axles.
REPLACEMENT
(1)
Remove
center
bearing
cross
member
frame
assembly
(2)
Be sure transmission and torque converter are drained
of oil
(3)
Remove   oil   level   dipstick   upper   support   (2)   and
bracket (3) from transmission housing
(4)
Disconnect   lower   end   of   dipstick   from   transmission
pan.      Slide   dipstick   assembly   out   from   underneath
truck
(5)
Using  floor  jack  support  rear  of  transmission,  remove
mounting
bolts
attaching
transmission
mounting
brackets to frame brackets.
4-524