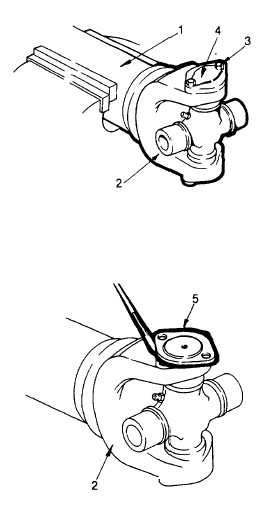 TM 5-4210-220-12
4-26 DRIVE LINES, POWER TRAIN - Continued
4-26.4 Universal Joint.
This task covers
a.
Disassembly
b.
Inspection
c.
Assembly
TOOLS
MATERIALS/PARTS
Shop Equipment, Automotive
20, Appendix E Penetrating Oil
Maintenance and Repair,
5-280X Cross and Kit
NSN 4910-00-754-0705
EQUIPMENT CONDITION
Drive Shaft Removed From Truck (see para. 4-26.3)
DISASSEMBLY
NOTE
The universal joints used in the truck drive line are all
the same.  The steps below describing the disassembly,
inspection, and assembly procedures are common to all
joints.
If  the  drive  shaft  fasteners  are  corroded,  apply
penetrating  oil  (item  20,  Appendix  E)  to  ease
disassembly.
(1)
Support the drive shaft (1) in a vise.
(2)
Using   a   hammer   and   chisel   bend   down   the   ears   on
lockstrap (4).
(3)
Remove capscrews (3), and remove the lockstrap (4).
(4)
Rotate   bearing   plate   (5)   about   1/4   turn   and,   using   a
hammer  and  chisel,  partially  separate  bearing  plate  (5)
from yoke (2) as shown.
(5)
Using a pry bar on each side of the bearing plate.
(5)
pry on the plate until it is removed from the yoke (2).
(6)
Repeat steps 3, 4 and 5 on the opposite bearing plate.  If
the   bearing   cannot   be   removed   by   this   method,   use
special  puller  (Kent  Moore  J36138)  to  pull  the  bearing
plate, see para. 4-26.3.  When using pullers, follow tool
manufacturer's recommendations.
(7)
Carefully maneuver the cross out of the yoke.
4-510