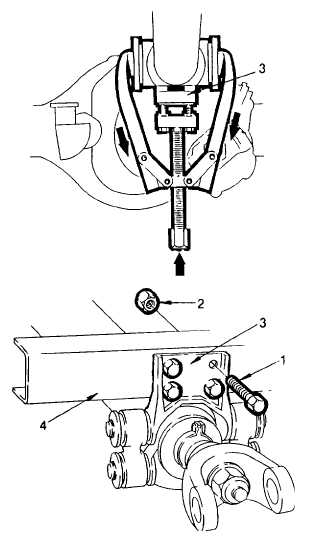 TM 5-4210-220-12
4-26.  DRIVE LINES, POWER TRAIN - Continued
4-26.3  Drive Shafts - Continued
a.
Drive Shaft Removal - Continued
(9)
If  the  bearing  plates  cannot  be  removed
using  the  jack  method,  use  special  puller
(Kent  Moore  J36138)  to  pull  the  bearing
plates (3).  Attach the puller as shown.
(10)
Support removed end of drive shaft using
mechanics wire.
(11)
Remove    the    bearing    plates    from    the
opposite  end  of  the  drive  shaft  similar  to
steps 5 thru 9 preceding.
(12)
Carefully  maneuver  universal  joint  cross
out of the end yokes.  Do not use force as
this can damage the bearing surfaces.
b.
Center Bearing Removal.
(1)
If
the
center
bearing
fasteners
are
corroded,  apply  penetrating  oil  (item  20,
Appendix E) to ease disassembly.
(2)
Remove  four  capscrews  (1)  and  nuts  (2)
that   retain   center   bearing   (3)   to   frame
cross member (4).
INSPECTION
a.
Universal Joint Inspection
(1)
Using a clean, dry, lint free cloth wipe exposed universal joint cross journals.
4-504