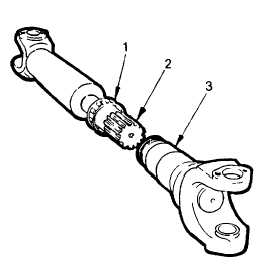 TM 5-4210-220-12
4-26.  DRIVE LINES, POWER TRAIN - Continued
4-26.2 Slip Joint Yoke.
This task covers
a.
Disassembly
b.
Inspection
c.
Assembly
TOOLS
Shop Equipment, General
Purpose Equipment,
FSN 4940-287-4894
2, Appendix G Alinement Bar
EQUIPMENT CONDITION
Appropriate Drive Shaft Removed (see para. 4-26.3)
MATERIALS/PARTS
10, Appendix E Dry Cleaning Solvent
16, Appendix E Grease EP1
20, Appendix E Penetrating Oil
6-3-2651 KX Slip Yoke
DISASSEMBLY
NOTE
The  two  slip  joints  used  on  this
truck   are   the   same.      The   steps
described   below   refer   to   either
slip    joint.        If    components    are
excessively
corroded,
apply
penetrating oil (item 20, Appendix
E) to ease disassembly.
(1)
Mark   slip   joint   before   removal,   this   will
ensure   alinement   of   components   during
installation.
(2)
Use pliers to remove dust cap (1).
(3)
Separate the two shafts (2 and 3).
.
INSPECTION
.
WARNING
Dry  cleaning  solvent  P-D-680  (safety  or  Stoddard's  solvent)  is  potentially  dangerous.   Avoid
repeated and prolonged breathing of vapors and skin contact with the liquid.  Do not use near
open  flame,  arcing  equipment  or  other  ignition  sources.    Always  wear  eye  protection  and
protective clothing.  The flash point of P-D-680 is 100 to 138 deg. F (30 to 59 deg. C).
(1)
Using dry cleaning solvent (item 10, Appendix E), wash splined stub shaft (2), slip yoke assembly (3) and
dust cap (1).
4-500