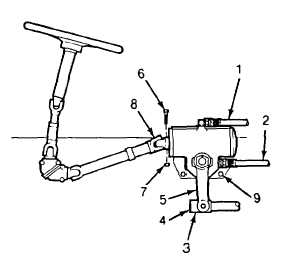 TM 5-4210-220-12
4-25.  STEERING SYSTEM - Continued
4-25.6 Power Steering Gear.
This task covers
a.
Removal
b.
Inspection
c.
Installation
d.
Adjustment
e.
Repair
TOOLS
Shop Equipment, Automotive
Maintenance and Repair,
NSN 4910-00-754-0705
EQUIPMENT CONDITION
Main Engine Shutdown (see para. 2-10)
APU Shutdown (see para. 2-12)
Battery Switch OFF
Power Steering Filter Drained of Fluid
MATERIALS/PARTS
3, Appendix E Antiseize Compound
492XSCC4 Steering Gear
310591 Locknut
310631 Locknut
WARNING
To   prevent   fire   hazards   collect   residual   fluid   and   clean   up   spills   immediately   when
disassembling power steering components.
CAUTION
Pump or steering gear failure due to contamination may occur unless strict cleanliness and
protective    measures    are    taken    when    disassembling    and    assembling    power    steering
components.
REMOVAL
(1) From inside the cab remove steering shaft covers.
(2) Tag and disconnect hoses (1 and 2) at the steering
gear and drain residual oil Cap hoses and steering gear
ports    when    drained    to    protect    components    against
contamination.
(3)  Remove  cotter  pin  (3)  and  unscrew  drag  link  plug
(4).  Remove drag link from pitman arm (5).
(4) Remove screw (6) and locknut (7) and pull yoke (8)
off steering gear.
CAUTION
Steering gear assembly and rear cab cross member are attached to frame using capscrews (9).
Support must be placed under cross member before steering gear is removed
4-488