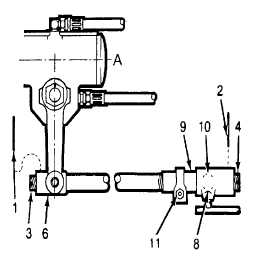 TM 5-4210-220-12
4-25.  STEERING SYSTEM - Continued
4-25.5 Drag Link
This task covers
a.
Adjustment
b.
Replacement
c.
Repair
TOOLS
Tool Kit, General Mechanic, Automotive,
NSN 5180-00-177-7033
EQUIPMENT CONDITION
Main Engine Shutdown (see para. 2-10)
APU Engine Shutdown (see para. 2-12)
Battery Switch OFF
Steering Shaft Covers Removed
MATERIALS/PARTS
16, Appendix E Grease
HL-25709-H Drag Link
1/4 x 3 Cotter Pin
221589 Dust Shield
PERSONNEL REQUIRED

- 2
ADJUSTMENT
NOTE
Front  wheel  alinement  must  be  checked  and
adjusted   prior   to   adjusting   drag   link,   see
para. 4-32.2.
(1)
Position truck front wheels straight ahead.
(2)
Be  sure  there  is  no  noticeable  play  between  link  end
(6)    and    pitman    arm    ball.        If    excessive    play    is
observed,  remove  cotter  pin  (1)  and  tighten  plug  (3)
until  it  bottoms  against  ball,  then  back  off  until  cotter
pin (1) can be installed install and secure cotter pin.
(3)
Note position of pitman arm relative to steering gear to
determine if adjustment of drag link is necessary, i.e.,
whether  to  increase  or  decrease  length  of  drag  link.
When  drag  link  is  correctly  adjusted  the  pitman  arm
should be at right angles to the steering gear axis (A)
when the wheels are straight ahead.
(4)
Remove cotter pin (2), plug (4) and loosen dust shield (8).  Remove link end (9) from axle linkage ball
(10).
(5)
Loosen  nut  (11)  and  turn  link  end  (9)  clockwise  or  counterclockwise  (full  turns)  to  adjust  length  of  drag
link.
NOTE
One  full  turn  of  link  end  (9)  changes  the  length  of  the  link  approximately  3/32  in.  (2  mm).
Three full turns changes the length 1/4 in. (6.4 mm).
4-484