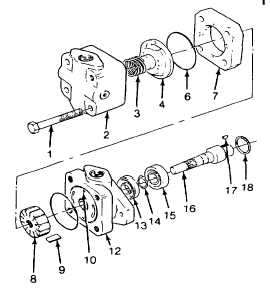 TM 5-4210-220-12
4-25.  STEERING SYSTEM - Continued
4-25.3 Power Steering Pump - Continued
c.
Pump Cartridge Repair - Continued
(8)
Check wearing surfaces of body (12), pressure plate (4),
ring  (7),  and  rotor  (8)  for  scoring  and  excessive  wear.
Light scoring marks may be removed by lapping.  Deeply
scored or worn parts warrant replacement of the pump.
(9)
Spin shaft and rock shaft end to and fro.  Replace pump
if bearing is noisy or excessive play is noted when shaft
is rocked.
(10)
Push cover (2) onto pump shaft.  Rock cover on shaft.  If
excessive play is noted between shaft and cover journal,
replace pump.
NOTE
During handling and shipping of new cartridge
parts, burrs may be raised on sharp edges.  Be
sure   to   remove   these   burrs   before   installing
new parts in pump.
(11)
Install new O-rings (6 and 10) in the body and cover.  Install ring (7) so that the arrow on the perimeter
points in direction of rotation as noted in step 3.
(12)
Install rotor (8) on shaft and insert vanes (9) in rotor slots.  Be sure the rounded vane edges are toward
the cover ring.
(13)
Place pressure plate (4) on locating pins and flat against the ring.  Position spring (3) on pressure plate
and install cover (2).  Be sure cover ports are orientated as noted in step 1.
(14)
Install and tighten cover screws (1) to 75 ft lb (100 Nm).
(15)
Rotate the shaft by hand to ensure that there is no internal binding in the pump.  Install shaft key (11).
(16)
Install and test pump on truck as detailed in INSTALLATION preceding.
4-480/(4-481 Blank)