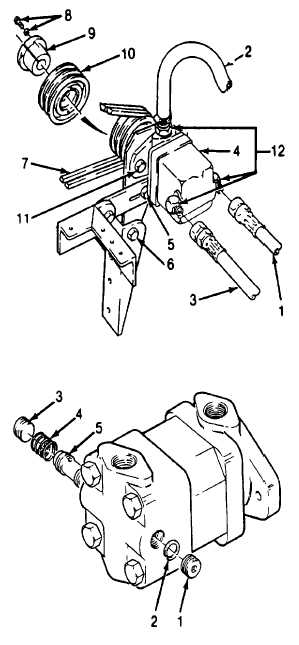 TM 5-4210-220-12
4-25.  STEERING SYSTEM - Continued
4-25.3 Power Steering Pump-Continued
REPAIR
a.
Drive Belt Repair
NOTE
Replace   drive   belts   in   matched   pairs
only.        Uneven    belt    wear    and    short
service    life    will    result    if    belts    are
replaced   individually   or   in   unmatched
pairs.
(1)
Loosen screws (5 and 6).  Push pump (4) toward
engine pulley and remove old belts (7).
(2)
Install  new  belts  and  tension  by  levering  pump
(4)  away  from  engine  pulley.   Tighten  screws  (5
and 6).
(3)
Check belt tension.  A firm push with the thumb
midway between engine and pump pulley should
deflect each belt approximately 0.05 inches (1.27
mm).  Adjust pump position as necessary.
b.
Pressure Relief Valve Repair
CAUTION
Do  not  repair  relief  valve  (5).    If  faulty,
the relief valve must be replaced.  Valve
malfunction
and
potential
pump
destruction may occur if disassembly is
attempted.
NOTE
Pressure   relief   valve   may   be   replaced
without   removing   steering   pump   from
truck.
(1)
Remove plug (1), plug (3), and spring (4).
(2)
Insert a suitable tool through the bore where plug
(1)  is  removed  and  push  relief  valve  (5)  out  of
valve cover
NOTE
Retaining  ring  (2)  can  remain  in  valve
cover unless it is damaged.  If removed,
be careful not to scratch valve bore.
Change 1  4-478