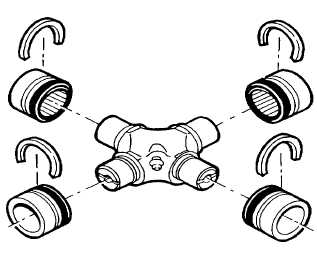 TM 5-4210-220-12
4-25.  STEERING SYSTEM - Continued
REPLACEMENT
(1)
Place a piece of tape on the steering wheel rim and aline another piece of tape on the  instrument panel.
(2)
Remove screw (1) and nut (2).
(3)
Collapse shaft A to release yoke (3) from steering column.  (For shaft B, this releases yoke from steering
gear).
(4)
Remove screw (4) and nut (5) and pull shaft free of miter box (6).
(5)
Coat splines of steering shaft with antiseize compound (item 3, Appendix E).
(6)
Be sure steering shafts are phased as shown and install new shaft on miter box using screw (4) and nut (5).
Tighten nut to 35 ft lb (48 Nm).
(7)
Be  sure  tape  on  wheel  rim  and  instrument  panel  are  alined  and  push  yoke  (3)  onto  shaft  of  steering
column.      Install  screw  (1)  and  nut  (2).    Tighten  nut  to  35  ft  lb  (48  Nm).    (For  shaft  B,  install  yoke  onto
steering gear).
REPAIR
NOTE
Repair   of   the   steering   shafts   is
limited
to
replacement
of
the
universal    joint.        Both    universal
joints   should   be   replaced   at   the
same time.
Steering shaft must be removed from truck for repair.
(1)
Remove   retaining   rings   (1)   from   all   four
bearing caps.
(2)
Set   the   universal   joint   up   in   a   vise   as
shown.    Use  a  small  socket  (2)as  a  punch
and a large socket (3) as a receiver.
(3)
Tighten vise and press bearing out of yoke
lug.
(4)
Remove  shaft  from  vise  and  rotate  one-
half  turn.    Repeat  pressing  procedure  to
remove second bearing cap from cross.
(5)
Carefully maneuver cross out of shaft yoke.
(6)
Repeat procedure 2 thru 5 to remove cross
from end yoke.
(7)
Repeat procedures 2 thru 6 to remove cross from other end of shaft.
4-473