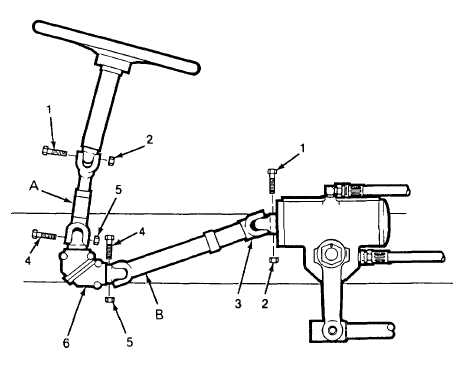 TM 5-4210-220-12
4-25.  STEERING SYSTEM - Continued.
4-25.2 Steering Shaft
This task covers
a.
Replacement
b.
Repair
TOOLS
Shop Equipment, Automotive
Maintenance and Repair,
NSN 4910-00-754-0705
EQUIPMENT CONDITION
Main Engine Shutdown (see para. 2-10)
APU Shutdown (see para. 2-12)
Battery Switch OFF
MATERIALS/PARTS
3, Appendix E Antiseize Compound
904860-141 Steering Shaft
904860-144 Steering Shaft
S-103X Cross and Bearing Kit
MS90728-66 Capscrew
MS51922-17 Locknut
NOTE
The two steering shafts (A and B) have different lengths.  The procedure below
outlines the replacement of steering shaft A.  To replace shaft B, the shaft cover
must be removed.  The same procedure may be used to replace shaft B.
4-472