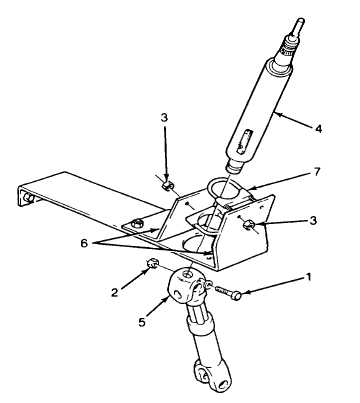 TM 5-4210-220-12
4-25.  STEERING SYSTEM - Continued.
(5)
Inspect all reusable parts removed from column.  Inspect support brackets (6) and clamps (7).  Replace
damaged or faulty components.
(6)
Coat upper and lower splines of column with antiseize compound (item 3, Appendix E).
(7)
Slide end of new column assembly through clamps (7) and into universal joint (5).
(8)
Install bolt (1) and nut (2) and tighten to 35 ft lb (48 Nm).
(9)
Tighten clamp nuts (3) to 35 ft lb (48 Nm).
(10)
Install harness plugs on dash panel and install dash panel.
(11)
Install turn signal switch, steering wheel, horn contact assembly, and horn button assembly as detailed in a,
b, c, and d preceding .
REPAIR
NOTE
Repair  is  limited  to  replacement  of  components  as  detailed  under  the  relevant  replacement
paragraph.
4-471