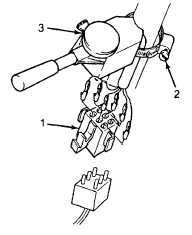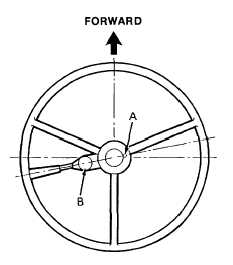 TM 5-4210-220-12
4-25.  STEERING SYSTEM - Continued.
4-25.1 Steering Wheel, Steering Column, Horn and Turn Signal - Continued
d.
Turn Signal Switch Replacement
(1)
Unplug  connector (1) from steering column harness.
(2)
Unscrew  hose  clamp  (2)  until  fully  open  and  remove  turn  signal
switch (3).
NOTE
If a new switch is to be installed, carry out steps 3 thru 6
Otherwise proceed to step 7 to install original turn switch.
(3)
Install new sockets on each wire of the new turn signal switch.
(4)
Using a small screwdriver, push on locating tabs in socket housing
on failed turn signal switch.
(5)
Pull each wire and socket out of housing.  Note position of each colored wire.
(6)
Push sockets from new switch into housing.  Be sure the socket locating tags lock in socket housing.
(7)
Install turn signal switch using hose clamp (2).
(8)
Adjust switch position to ensure proper interaction of switch canceling button (B) and arm (A).  Be sure the
switch is situated opposite the cancel arm (A) as shown.  Tighten hose clamp.
(9)
Plug connector (1) into steering column harness connector.
e.
Upper Column Assembly Replacement
(1)
Remove  horn  button  assembly,  horn  contact  assembly,
steering wheel, and turn signal switch (see a, b, c, and d
preceding).
(2)
Remove   machine   screws   from   dash   panel   and   lift   up
panel,  resting  it  on  top  of  dash.    Unplug  harnesses  as
required.
(3)
Remove bolt (1) and nut (2).
(4)
Remove  clamp  nuts  (4).    Pull  column  (4)  free  of  universal
joint (5), support brackets (6) and clamps (7).
4-470