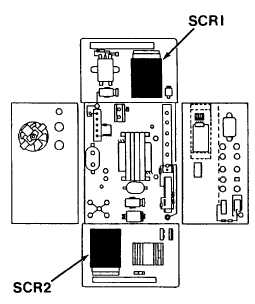 TM 5-4210-220-12
4-24.  ELECTRICAL SYSTEM - Continued
4-24.14 AC Electrical System - Continued
e.
SCR Repair - Continued
(6)
If resistance reading is less than 1000 ohms, replace SCR
Resistance should be greater than 100 kOhms.
(7)
To replace the SCR, pop the plastic plugs out of the 1 in.
(25  mm)  holes  in  the  slotted  area  behind  the  heat  sink
from the inside with a screwdriver.
(8)
Disconnect the small connector to the SCR gate lead
(9)
Remove the SCR using a 3/4 in. socket
(10)
Install new SCR Be sure there is thermal grease between
the SCR case and the heat sink.  Tighten nut securely.
(11)
Reconnect the cathode (ground) lead.
(12)
Reconnect the gate lead.
(13)
Replace  inverter  as  detailed  in  steps  13  and  14  of  a
preceding.
f.
Diode Repair
NOTE
These are 14 diodes in the inverter, and there are 3 basic different types.
(1)
Open the inverter as detailed in a preceding steps 5 thru 8.
(2)
All diodes should conduct anode to cathode and block cathode to anode.
(3)
Remove diodes from heat sink or chassis before testing.
(4)
Connect an ohmmeter between cathode and anode.  Resistance should be very high, greater than 100
kohms.
(5)
Connect an ohmmeter between anode and cathode.  Resistance should be very low.
(6)
Replace any fuses failing the test.
(7)
Replace inverter as detailed in steps 13 and 14 of a. preceding.
4-466