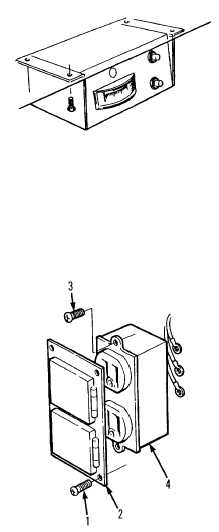 TM 5-4210-220-12
4-24.  ELECTRICAL SYSTEM - Continued
4-24.14  AC Electrical System - Continued
b
Remote Control Unit Replacement - Continued
(6)
Replace  remote  control  unit  in  cab  (or  pump
body panel).
(7)
Thread   wire   harness   through   cab   (or   pump
body  panel),  and  along  frame  to  hose  body.
Be   sure   it   follows   same   routing   as   original
wires.  Tie and wrap in position approximately
every 2 ft (600 mm).
(8)
When in position, plug into inverter
c
Receptacle Replacement
Two  receptacles  are  installed  on  the  truck,  one  on
each side of the hose body.  This instruction may be
used to replace either receptacle.
(1)
Be sure truck batteries are disconnected.
(2)
Remove screws (1) and remove face plate (2).
(3)
Remove
screws
(3)
and
gently
ease
receptacle (4) from panel.
(4)
Loosen screws on back of receptacle and tag
and disconnect all three wires.
(5)
Attach  new  receptacle  to  wires  as  tagged  in
step 4.
(6)
Install receptacle on cab using screws (3).
(7)
Install    face    plate    (2)    to    receptacle    using
screws  (1).    Be  careful  to  ensure  face  plate
gasket is flat and is pulled tight against cab.
(8)
Reconnect  main  batteries,  start  main  engine
and fire pump and test receptacle as in TEST
preceding.
4-462