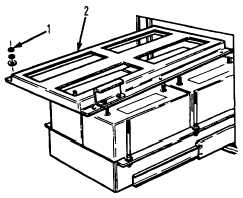 TM 5-4210-220-12
4-24.  ELECTRICAL SYSTEM - Continued
4-24.12  Battery - Continued
(8)
To  remove  the  batteries,  remove  the  battery
hold down plate retaining nuts (1).
(9)
With  two  people,  one  holding  the  left  hand
side  and  one  the  right,  lift  up  the  retaining
plate (2) and pull out of the drawer.
WARNING
Serious   injury   could   occur   if   heavy   equipment   is
moved/lifted  without  sufficient  personnel  to  do  the
job.  Use proper physical lifting procedures or use a
suitable  lifting  device  or  dolly.    Wear  safety  shoes,
gloves  and  other  suitable  protective  clothing.    All
batteries  contain  a  strong  acid  solution.    Splashing
in  the  eye  can  cause  blindness.    Splashing  on  the
skin  an  cause  severe  burns.    Do  not  drop  or  tilt
batteries.    If  liquid  from  the  batteries  is  splashed,
wash  the  affected  area  with  copious  quantities  of
water.    Consult  a  doctor  if  splashed  in  the  eye  or
taken internally.  Always wear gloves, apron and eye
protection when handling batteries.
(10)  Remove batteries one at a time being careful not to tip the batteries.  Each battery weights
60 lb (27 kg).
(11)
Install new batteries one at a time into the battery tray.  Be careful not to trap the battery leads.
(12)  With two people, one holding the left hand side and one the right hand side, slide the battery
retaining plate into the drawer.  Be sure all battery leads are above the retaining plate
(13)
Lower retaining plate onto batteries and secure in place with the nuts.  Tighten to 30 ft lb (41 Nm).
(14)  Connect battery leads to batteries as illustrated.  Be sure red coded leads are connected to
the positive terminals.
(15)
Tighten post nuts to 30 ft lb (41 Nm).
(16)
Push battery rack into compartment.  Be sure latch catches.  Close door.
4-458