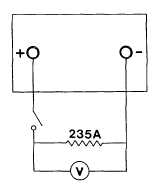 TM 5-4210-220-12
4-24.  ELECTRICAL SYSTEM - Continued
4-24.12  Battery.
This task covers
a.
Test
b.
Replacement
TOOLS
MATERIALS/PARTS
Shop Equipment, Automotive
1980514 Battery
Maintenance and Repair,
NSN 4910-00-754-0650
EQUIPMENT CONDITION
Main Engine Shutdown (see para. 2-10)
APU Shutdown (see para. 2-12)
NOTE
Truck batteries are of the no-maintenance type.  Do not attempt to add water to the battery cells.
TEST
(1)
Be  sure  battery  is  fully  charged,  cell  Indicator
should  be  green.    If  cell  indicator  is  a  light  or
yellow color, electrolyte level is low and battery
should be replaced.  If indicator is dark, battery
needs charging.
(2)
If  battery  needs  charging  connect  12  volt,  10
amp  source  to  plugs  in  rear  hose  body  and
charge for at least 24 hours.
CAUTION
Using  an  alligator  clamp  to  connect  loads  to  battery
will   damage   battery   terminals.      Connect   leads   to
battery   with   bolted   cable   ends   and   use   switch   to
connect/disconnect loads.
(3)
Connect  a  290  amp  load  across  the  battery
terminals   for   15   seconds   to   remove   surface
charge (This is equivalent to a 0.041 ohm, 4 kw
rated resistor or carbon pile).
(4)
Wait    15    seconds    after    above    test.        Then
connect
a
voltmeter
across
the
battery
terminals.  Switch the 290 amp load across the
battery terminals again.  Read the voltage after
15 seconds.
(5)
Disconnect load.
4-456