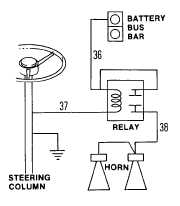 TM 5-4210-220-12
4-24.  ELECTRICAL SYSTEM - Continued
REPAIR
(1)
If one or both horns fall to operate, remove wire
from horn and connect a 12-volt bulb between
ground and the wire.
(2)
Press horn button and check lamp lights.  If lamp
does not light, check continuity of wire 38
between horns and horn relay in cab fold-down
instrument panel.
(3)
If relay does not operate, check wire 36 on relay
terminals 3 and 4 is at 12 volts.  Check continuity
of wire 37 between relay and steering column.
(4)
If all wires and voltages are satisfactory, fault is
either at horn button, in horns or is the relay.  For
horn button replacement, see para. 4-25.1.  For
horn replacement, refer to REPLACEMENT
preceding.  For relay replacement, see para.
4-24.7.
4-455