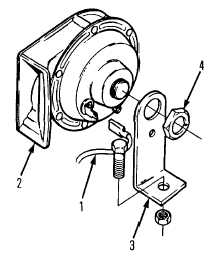 TM 5-4210-220-12
4-24.  ELECTRICAL SYSTEM - Continued
4-24.11  Electric Horn System.
This task covers
a.
Adjustment
b.
Replacement
c.
Repair
TOOLS
MATERIALS/PARTS
Tool Kit, General Mechanic, Automotive,
9000 130 Horn F Tone
NSN 5180-00-177-7033
9000 131 Horn A Tone
1965 698 Horn Nut
EQUIPMENT CONDITION
1967 209 Horn Bracket
Main Engine Shutdown (see para. 2-10)
PERSONNEL REQUIRED - 2
ADJUSTMENT
(1)
Each horn has an adjusting screw mounted on
the nut side of the horn.  This screw may be
adjusted to alter the tone of the horn.
(2)
Disconnect wire from other horn and adjust
screw until desired tone is heard.
(3)
Reconnect other horn.  Repeat step 2 for the
second horn.  One note should be high and the
other low in pitch.
(4)
If a horn does not work at all, replace horn
Adjusting the tone screw will rarely result in a
reliably working horn.
REPLACEMENT
(1)
Tag and disconnect wire (1) from horn.
(2)
Unscrew mounting nut (4) and remove horn (2)
from truck.
(3)
Inspect mounting bracket.  If severely corroded,
replace.
(4)
Replace horn and mounting nut.  Tighten nut
securely.
(5)
Reconnect wire as noted in step 1.
4-454