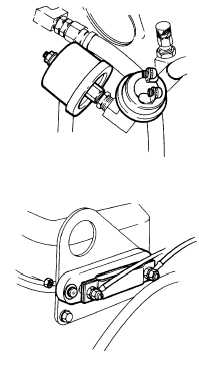 TM 5-4210-220-12
4.24.  ELECTRICAL SYSTEM - Continued
4-24.10  Sending Units and Warning Switches - Continued
e.
Engine Oil Pressure (Fuel Pump Shutdown) Test.
NOTE
This   oil   pressure   switch   will   cause   fuel
priming  pump  to  stop  if  no  oil  pressure  is
registered when engine is running.
(1)
Connect a voltmeter between priming pump relay
terminal 35 and ground.  The relay is the middle
one of three relays installed behind cab
fold-down panel.  Voltmeter should read 12V.
(2)
Start main engine and check voltmeter reads at
O volts.
(3)
Stop main engine and remove voltmeter.
(4)
If oil sender does not operate, replace oil sender.
(5)
If wire is broken replace wire 35 from sender to
terminal 35 of the priming pump relay.
(6)
To check relay coil, connect voltmeter between
terminal of relay and ground.  Voltmeter will read
12 volt.  When cab PRIME pushbutton is pressed,
voltmeter should read 0 volts.  Replace relay if no
voltage is read.
f
Ammeter Shunt Test.
(1)
Connect a voltmeter across terminals of the
ammeter.  Shunt is mounted on the rear engine
lifting bracket.
(2)
With engine ignition ON, crank main engine.
Voltmeter should read approximately 1 volt.
(3)
Replace shunt if no reading is obtained.
4-450