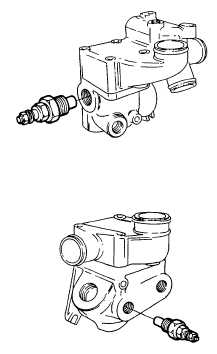 TM 5-4210-220-12
4-24.  ELECTRICAL SYSTEM - Continued
4-24.10  Sending Units and Warning Switches.
This task covers
a.
Test
b.
Replacement
TOOLS
MATERIALS/PARTS
Tool Kit, General Mechanic, Automotive,
279B Oil Pressure Sender
NSN 5180-00-177-7033
1042-33110-06 Oil Pressure Switch
EQUIPMENT CONDITION
334AD Water Temp Sender
Main Engine Shutdown (see para. 2-10)
1002-05511-34 Water Temp Switch
LHS and RHS Engine Covers Removed
3345 Oil Temp Sender
(see para. 4-12.11)
1002-05511-52 Oil Temp Switch
2337439 Speedometer Drive Sleeve
SG201A/46253 Speedometer Generator
703386 Speedometer Drive Gear
SM305-47062 Tachometer Sensor
TEST
a
Engine Water Temperature Gage Test
(1)
Run main engine and monitor temperatures on
pump panel and cab dash panel gages  Each
gage is supplied from different senders.
(2)
If no temperature is recorded on one gage,
ground the S terminal on gage.  If gage does not
register, replace gage.
(3)
If gage registers, either sender or wire is at fault.
For pump panel, wire number is 114.  Wire runs
from pump body through plug on frame into
engine compartment.  For cab, wire number is 46.
Wire runs from gage through plug to fold-down
panel terminal strip to engine compartment.
(4)
Check  wire  for continuity  If good, replace
sender (See illustration).
b
Engine Water Temperature Alarm Test.
(1)
Alarm lamps in cab and on pump panel are
energized by different senders.
(2)
To test operation of alarm system, connect a
jumper between terminal on relevant sender and
brass nut of sender.  (See illustration for sender
location).  Check relevant alarm sounds.
4-448