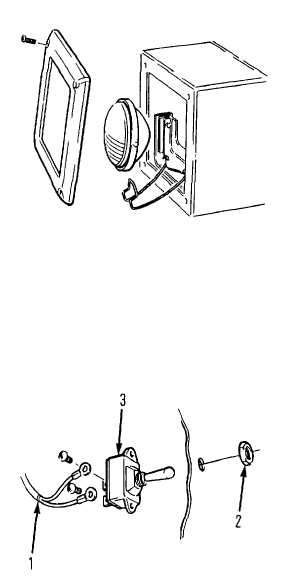 TM 5-4210-220-12
4-24.  ELECTRICAL SYSTEM - Continued
(11)
Attach wire of new lamp to new butt connector
Install screws (4) to install new lamp.
(12)  Crimp butt connector onto wire harness.
i  Oscillating Lamp Replacement.
(1)
To replace sealed beam, remove lens mounting
screws (1) and lift off lens.
(2)
Pull bulb retaining spring forward from the top
while holding sealed beam.
(3)
Remove sealed beam from housing and unscrew
positive and negative terminals.
(4)
Replace bulb, connect positive and negative leads
and clamp bulb in position with spring.
(5)
Install lens and tighten screws (1) securely.
(6)
To replace oscillating lamp assembly, the lamp
base retaining rivets have to be drilled out.  Refer
to Direct Support Level for installation of rivets.
REPAIR
Rear Deck Light Switch Repair.
(1)
To replace switch, remove sealed beam as
detailed  in  Rear  Deck  Light  Replacement
preceding.
(2)
Tag and disconnect wire (1) from switch.
(3)
Unscrew locking nut (2) from switch toggle and
pull switch (3) out of housing.
(4)
Replace switch and secure with locking nut.
(5)
Attach wires to switch as tagged in step 2.
(6)
Install sealed beam as detailed in Rear Deck
Light Replacement preceding.
4-443