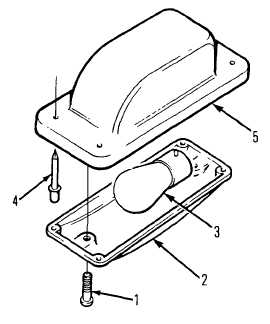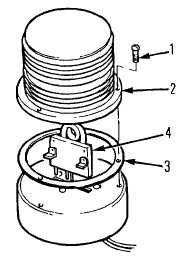 TM 5-4210-220-12
4-24 ELECTRICAL SYSTEM - Continued
e.
Dome Lamp Replacement
NOTE
Six  dome  lamps  are  installed  in  truck,  one  above
each seat and one in each enclosed cab footwell.
(1)
To  replace  lens  or  bulb,  remove  screws
(1).
(2)
Remove lens (2) and bulb (3) and replace
as required.
(3)
Install    lens    with    screws    (1).        Do    not
overtighten.
(4)
To remove base (5), remove fasteners (4)
and carefully pull lamp from mount.
(5)
Cut wire at butt connector.
(6)
Install new lamp wire to harness with new
butt connector.
(7)
Install lamp base using fasteners (4).
(8)
Replace   bulb   and   lamp   as   detailed   in
steps 2 and 3.
f.
Front Emergency Lamp Replacement.
NOTE
The flashtube and lens may be replaced.
(1)
Remove  screws  (1)  and  lift  off  lens  (2).
Take care not to damage gasket (3).
(2)
Pull out flashtube (4).
(3)
Replace flashtube and/or lens as required.
Install lens (2) with screws (1).
4-441