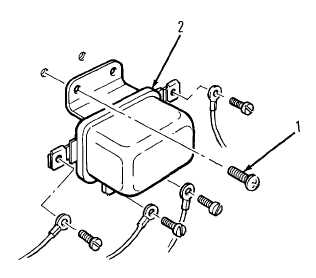 TM 5-4210-220-12
4-24 ELECTRICAL SYSTEM - Continued
4-24 7 Instrument Control Panel Flashers and Relays.
This task covers
Replacement
TOOLS
Tool Kit, General Mechanic, Automotive,
NSN 5780-00-1777-7033
EQUIPMENT CONDITION
Main Engine Shutdown (see para. 2-10)
APU Shutdown (see para. 2-12)
Batteries Disconnected (see para. 4-24)
Fold-Down Panel Lifted Up (see para. 4-24.4)
MATERIALS/PARTS
1115834 Relay
115858 Relay
1114534 Magnetic Switch
1039-06823-01
Flasher
NOTE
All  flashers  and  relays  are  mounted  similarly  and  are  located  behind  the  fold  down  panel  of  the  instrument
panel.
REPLACEMENT
(1)
Tag and disconnect wires from unit that has failed.
(2)
Remove mounting screw (1).
(3)
Lift out flasher/relay (2) and discard.
(4)
Install new flasher/relay in panel using screws (1).  Tighten securely.
(5)
Reconnect wires as noted in step 1. preceding.
(6)
Replace fold-down panel.
4-436/(4-437 Blank)