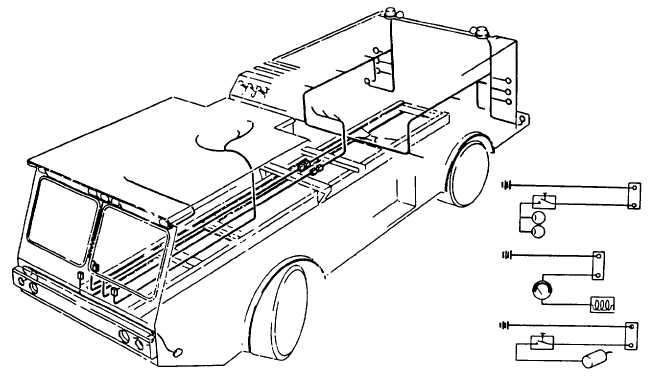 TM 5-4210-220-12
4-24.  ELECTRICAL SYSTEM - Continued
4-24.3 Wiring Harness
This task covers
a
Test
b
Replacement
c
Repair
TOOLS
Shop Equipment, General Purpose Repair,
FSN 4940-287-4894
EQUIPMENT CONDITION
Main Engine Shutdown (see para. 2-10)
APU Shutdown (see para. 2-12)
Batteries Disconnected (see para. 4-24)
NOTE
A full electrical schematic is included in FO-1.  This should be used to aid troubleshooting test and repair.
TEST
(1) If a circuit or number of circuits fail.  ie lamp(s) does not work, first test the lamp or gage or
sender unit as detailed in the relevant section of 4-24.
(2)
All circuits have a schematic diagram similar to the one shown.
(3)
All circuits have unique wire numbers.  The wire number between the terminals of hardware (e. g. switch,
lamp) is identical even if the wire feeds 10 lamps in parallel or passes through a junction box or terminal
strip.  This allows easier testing of wires.  If one end is at 12 Vdc. then all terminals with that same wire
number should be at 12 Vdc.
Change  3  4-423