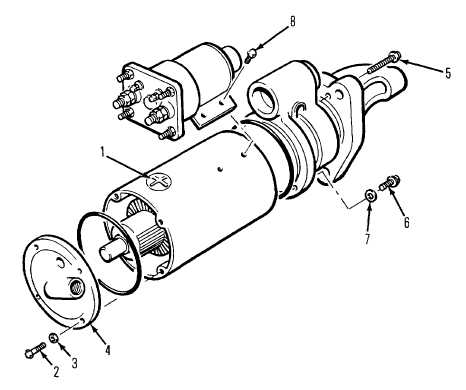 TM 5-4210-220-12
4-24.  ELECTRICAL SYSTEM - Continued
4-24.2 Starting Motor - Continued
(7)
Low speed and low current indicates:
(a)
high internal resistance due to poor connection, defective leads, or dirty commutator
(b)
same faults as step 6 preceding.
(8)
High speed and high current indicate shorted fields.
(9)
To  disassemble  the  motor,  note  the  relative  positions  of  the  solenoid,  lever  housing,  and  nose  housing.
Mark pieces with chalk to ensure motor is assembled in the same manner.
(10)
Disconnect  motor  from  test  gear  (if  necessary)  and  disconnect  field  coil  connector  from  solenoid  MTR
terminal.
(11)
Disconnect   lead   between   solenoid   and   motor   ground   terminals.      Remove   screws   (8)   from   solenoid.
Remove brush inspection plugs (1) and the brush lead screws.
(12)
Remove bolts (2) and washers (3) and separate end frame (4) from field frame.
(13)
Remove bolts (5) and separate nose housing from lever housing.
(14)
Remove bolts (6) and washers (7) and remove lever housing from field frame.
4-418