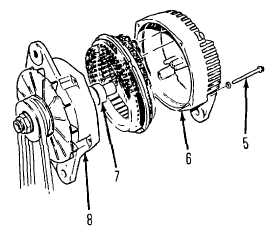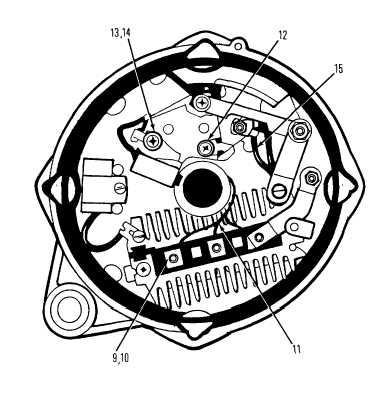 TM 5-4210-220-12
4-24 ELECTRICAL SYSTEM - Continued
4-24.  1 Alternator - Continued
(9)
Remove nuts (9) and washers (10) and remove stator (7) from slip ring end frame (6).
(10)
Remove diode trio (11) by removing insulated screw (12).
(11)
Remove screw (13) and insulated washer (14).
(12)
Connect a 12 in. piece of # 16 white wire, with suitable ring terminal, to negative brush using screw (13)
and washer (14).  Wire terminal must be under the insulated washer to ensure good electrical contact with
brush terminal.
(13)
Remove  and  discard  the  black  regulator  jump  lead  (15)  between  the  voltage  regulator  and  the  positive
(BAT) terminal of the alternator.
4-414