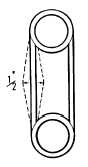 TM 5-4210-220-12
4-24.  ELECTRICAL SYSTEM
4-24.1  Alternator
This task covers
a.
Test
b.
Replacement
c.
Repair
TOOLS
MATERIALS/PARTS
Shop Equipment, Automotive
1105465 Alternator
Maintenance and Repair,
NSN 4910-00-754-0650
EQUIPMENT CONDITION
Main Engine Shutdown (see para. 2-10)
APU Shutdown (see para. 2-12)
Battery Switch OFF
110 Volt Inverter OFF
LHS and RHS Engine Cover Removed
(see para. 4-12.11)
TEST
NOTE
If the batteries are undercharged carry out tests 1 thru 11.  If the batteries are overcharged, or
showing low electrolyte level, carry out test 12 thru 14.
(1)
Be  sure  undercharging  is  not  a  result  of  accessories  being  left  on.    With  all  accessories  off  and  battery
switch set to BOTH and batteries charged, connect a voltmeter between the terminals of the current shunt.
The reading should be zero even in the millivolt range.  If there is a reading, check for a broken accessory
switch or an accessory circuit connected directly to the battery bus bar.  The current shunt is mounted on
the left hand engine lifting bracket.
(2)
Be sure alternator drive belts are tight.  There should be a maximum 1/2 in. (12 mm) play in drive belt at
the mid-position between the pulleys.
(3)
Be sure all battery, starter motor, alternator, and ground connections are tight and clean.  Be sure battery
posts are not coated with corrosion products.
(4)
Switch ignition on and note dash-mounted voltmeter reading.  A zero reading indicates wire 22 or 21 or the
wires  between  the  batteries  and  battery  switch  are  broken.    It  may  also  indicate  a  fault  with  the  battery
switch or the ignition switch.  Check all wire and switches and replace failed components.
Change 4    4-412