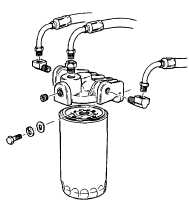 TM 5-4210-220-12
4-23 FUEL SYSTEM AND AIR INTAKE - Continued
4-23.6 Main Engine Fuel Filter
This task covers
a.    Replacement
TOOLS
Shop Equipment, Automotive
Maintenance and Repair,
NSN 4910-00-754-0650
MATERIALS/PARTS
25010778 Filter Cartridge
EQUIPMENT CONDITION
Main Engine Shutdown (see para. 2-10)
RH Engine Cover Removed (see para. 4-12.11)
CAUTION
JP-4 is a highly volatile fuel.  Extraordinary care must be taken when servicing components
that use this fuel.  The truck shall be grounded to an approved grounding point if it contains
JP-4 fuel.
NOTE
The main engine fuel filter is mounted on the front right hand of the engine.
REPLACEMENT
a.
Filter Cartridge Replacement
(1)
Unscrew the filter using a filter removal tool.
(2)
Remove from the engine and discard in a combustible waste area.
(3)
Fill a replacement filter cartridge about two-thirds full with clean fuel oil.
(4)
Coat the seal gasket lightly with clean fuel oil.
(5)
Install the cartridge and tighten it to one-half turn beyond gasket contact.
(6)
Start the engine and check for leaks.  Tighten the filter as required.
b.
Filter Cover Replacement
(1)
Carry out Filter Cartridge Replace steps 1 and 2.
(2)
Tag and remove fuel filter inlet and outlet hoses.
(3)
Remove both capscrews securing filter cover to engine block.
4-406